Super Jump Starter
GB-12-300CCA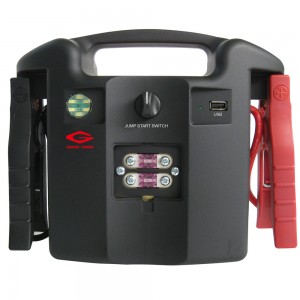 GB-12-300CCA could jump start the vehicle less than 3000cc.
A portable power supply and super jump starter that built in a LED light and USB port
Features
Battery Cilp Short Protection by Internal Fuse.
Easy Battery Cilp Storage by Hand.
Lighting And Flashing By 2W LED.
USB 2.1A Output With Smart Charging Controller.
Specification
Battery:

Voltage: DC12V
Capacity: 8.5AH
Internal Resistance: 7mΩ(@25°C)
Cold Cranking Ampere:300A

LED Lighting and Flashing: 2W
Smart USB Output: 2.1A
Internal Fuse: 200A
Dimension: L98 x W244 x H180mm
Weight: 3.9 kgs
Application
Provide 5VDC power through the USB port to charge the mobile phone etc. LED light for emergency condition. Jump starter function.
Files Download