24VDC TO 12VDC Converter
GP-2412-30A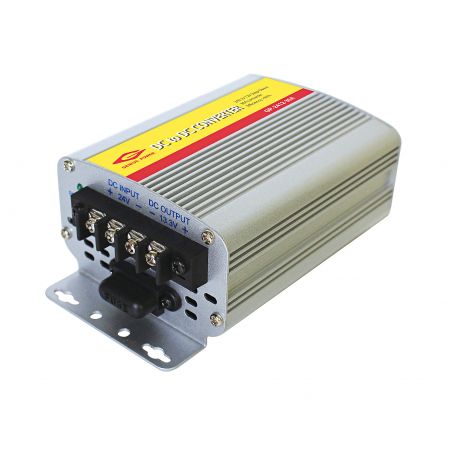 30A step-down converter regulator to transfer the voltage from 24V to 12VDC.
30A current converter to down the voltage from 24V to 12VDC.
Features
Built-in over/under voltage input, overload, overhead, and short circuit full protection
Specification
DC Input Voltage: DC20~37V
DC Output Voltage: DC12.5~13.5V
Output Current (Continuous @25℃): 30A
Output Current (Max.): 36A
Heat Dissipated: Metal Case
Status LED: Yes
Conversion Efficiency >90%
DC Input Low Battery Shutdown: DC20 ±1V
DC Input High Battery Shutdown: DC38 ±1V
DC Input Polarity Protection: Fuse
DC Input Over Current Protection: Fuse(30A)
Overtemp Protection: 65±5℃
DC Output Over Current Protection: >36A
DC Output Over Voltage Protection: TVS Diode
Dimension: 160mm x 87mm x 52mm
Weight: 500g
Effciency: 92%
Application
Use in 24 Volt Vehicles Trucks, RV, Buses, Etc. Allows installation of 12 Volt Items Such as Car Stereo's, CB Radio's, Fog Lights, Etc. Allows to use with Security systems, telecommunications, medical equipments, instruments etc.
Tag : Step-down Converter,